Thank you to our guild members who contributed to the Malone Animal Shelter.
The shelter personnel were VERY appreciative!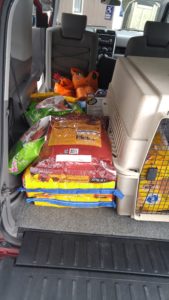 Barb went shopping at Tractor Supply and spent $107.84, which includes the $80 I collected at last night's guild meeting and a donation from Bob and me. After her shopping trip to Tractor Supply, our total donation came to:
122 pounds dry plus 75 cans of dog food.
39 pounds dry plus 22 cans cat food
2 boxes kitty litter
1 box puppy training pads
20 gallon bag full of good used towels for pet bedding.